Regular price
Sale price
$13.00 USD
Unit price
per
Sale
Sold out
In this sketch I depict Agricola Street Brasserie.

Agricola Street Brasserie is a vibrant eatery located in North End Halifax, known for serving French-inspired seasonal cuisine, cocktails, and draft brews in a stylish space. The restaurant emphasizes local ingredients and relationships, reflecting the historic and cultural significance of the North End Halifax community. The building housing the brasserie is emblematic of the working-and-middle-class neighborhood that formed in North End Halifax near the turn of the twentieth century, representing the Halifax Box style of dwelling, which is prevalent in the area.

The North End Halifax neighborhood, where Agricola Street Brasserie is located, has a rich history dating back to the early 1900s. The area was home to working-class residents and is characterized by its architectural style, including the Halifax Box style of dwelling, which is prevalent in the neighborhood. The area has seen a resurgence in recent years, with a growing number of restaurants and businesses emphasizing local products and relationships, contributing to its appeal among food enthusiasts.

The Agricola Street Brasserie building, located at 2539 Agricola Street, is a municipal heritage property, representing the historic architecture of the North End Halifax neighborhood. The restaurant's commitment to using quality local ingredients and its stylish space contribute to the vibrant culinary scene in the area, making it a notable destination for locals and visitors alike. The restaurant also offers a to-go option, allowing patrons to enjoy its European dishes in the comfort of their homes.

Overall, Agricola Street Brasserie is a significant part of the North End Halifax community, reflecting the area's rich history and contributing to its culinary renaissance. The restaurant's emphasis on local ingredients and relationships, combined with its stylish space and historic location, make it a notable destination for those looking to experience the vibrant culinary scene of Halifax's North End.

FOR ART PRINTS: 

Sizes available are: 5"x7", 8'x10", 9"x12" and 11"x14".
Reproduced on high-quality 100lb paper and archival ink so your art will last for years to come! Ready to frame for wall art. Colours may vary due to screen/monitor settings.
Framing: We do not offer framing at this time.
FOR GREETING CARDS:
Size available

 

is:

 

4.25"x5.5".
PAPER & DESCRIPTION
Print and cards are

 

of my original handmade marker sketches.

For my original work I use Copic, and Winsor and Newton alcohol-based and acrylic ink markers.
Prints are

 

signed by the artist.
PACKAGING
Prints: All prints are packaged with love, sealed in an eco-friendly, compostable cello sleeve made of plant fibers with thick backing cardboard and mailed in a non-bend envelope to ensure the print remains in perfect condition.
Greeting Cards: All cards are blank inside and a kraft envelope is included. All greeting cards are packed in a clear cellophane bag. 

ECO EFFORTS
It's very important to us to keep being as eco-friendly as possible.
PLA compostable sleeves and recycled postcards.
We welcome and encourage any suggestions you might have.
Follow Wynand's artwork under @downtownsketcher on Instagram!
https://www.instagram.com/downtownsketcher/

COPYRIGHT
***************
Any unauthorized reprint or use of this image is strictly prohibited. No part of the artwork may be reproduced, resold, or used for promotional or social media use without written consent from the artist of © Wynand van Niekerk, @downtownsketcher.

Copyright © Wynand van Niekerk ALL RIGHTS RESERVED
Materials

Alcohol based markers, Copic markers, Winsor and Newton markers, Farber Castell fine liners and card
Shipping

Free Domestic & International shipping
Dimensions

Prints available in 4 sizes: 5'x7', 8'x10'. 9'x12', 11'x14'

Originals available in 9'x12' only
Care Instructions

It's important that you should care for your fine art prints just as you would any delicate and valuable artwork. With proper handling, your prints will remain in pristine condition for many years to come.

Follow these recommendations:

Handling
Natural skin oils or other contaminants can easily transfer to the print. As a preventative measure, we recommend washing your hands before touching the print. Use both hands and support the back of the print when picking it up.
Never attempt to rub the surface of the image with your finger or fingernail as this could scratch the surface of the print.

Exposure to Elements
Keep your print out of direct sunlight. Even the best quality materials are subject to cracking or fading if exposed to prolonged periods of sunlight. Although normal incandescent light bulbs do not present a problem, fluorescent lights do emit harmful ultraviolet rays.
Hang your print away from areas where airborne grime, dust and pollutants such as cigarette smoke can leave a discolouring residue.
Avoid extreme fluctuations in moisture and temperature. Excessive fluctuations between dryness and humidity, or extreme heat and cold can negatively affect the state of your print. Museums keep the temperature generally around 18 degrees Celsius and a relative humidity of 40%. If the humidity is too high, be on the lookout for mold.

Framing
When framing your print use a good quality glass specifically designed for protecting fine art and photographic images. We also recommend using an acid-free archival mat to prevent the print and glass from touching. Like many artworks, an original is sensitive to light. Please ensure that your framer uses UV resistant/museum glass when framing. This glass will protect the artwork against direct or indirect light for years to come.

Storage
To prevent accidents, store your print away from anything that might press against the image surface. Some objects may not seem sharp enough to damage the print, but you'd be surprised at what will cause a scratch, a tear, or a rip.
Do not stack prints on top of each other. Separate them with pieces of acid-free paper to avoid damage.
Wrap your print well if you plan to transport it. Be sure to put a piece of acid-free paper over the front to protect the print. Rough handling can damage the print so pack it securely.
Do not cover your print with plastic for long periods of time. If there is humidity in the air, the mold may begin to grow. Cotton, acid-free sheets are the best for keeping dust away.

Cleaning
The print should be dusted with a clean, soft rag, to prevent dust buildup. Never use cleaning products or water as this may permanently damage the print.
Do not blow on your print as you may inadvertently deposit water droplets that can mark your print.
If using compressed air, apply short bursts while keeping the nozzle at least 12" back from the face of the print.
Share
View full details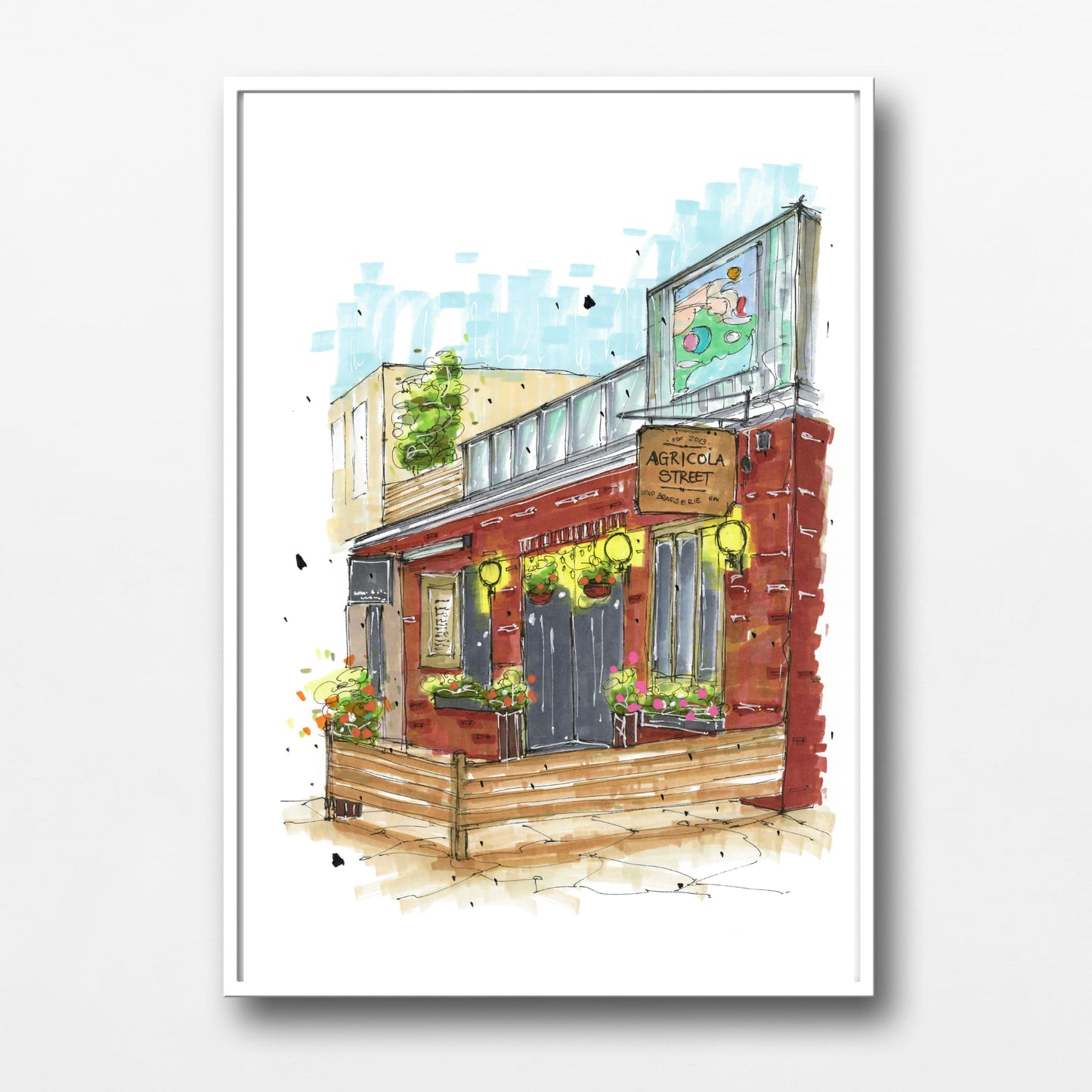 FREE SHIPPING

Free shipping domestic or international

BUY 3 GET 15% OFF

Buy three prints from our shop and get 15% off your order! Use CODE:BUY3 at checkout to redeem offer.